LAMPU SEPEDA CREE XML 1800 LUMEN
Description
1. Model of LED: 2 x CREE XPE R2 LED + 1 x CREE XM-L T6
2. Output bright can come to max 1800 lumens [lm]
3. Internal wiring applies the high efficient booster circuit, working voltage is wide and can utilize the batteries in the largest extent.
4. Waterproofing design
5. Aluminum alloy casing
6. Aluminum alloy reflector
7. 3 switch Mode: 1xCREE XML T6 / 2xCREE XPE R2 / 1xCREE XML T6+2xCREE XPE R2
8. 100v-240v Battery Charger ( LED indication for Power On / Charging / Full charge ) 9. Model of Battery required: 1 x 8.4v 6400mAh Battery Pack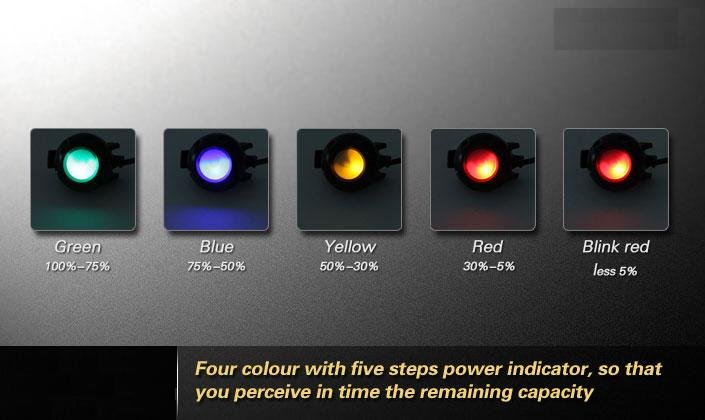 10. Colour : Black
11. Dimension : 85x57x55mm
12. Weight : 195g
Products Description
1,Using a Cree XML-T6 lights and two single XPE-R2 lamp,Highest the brightness of 1800 Lumens,life 100,000hours!
2,Intelligent control circuits,three gears light circuit:
A:both XPE-R2 the lamp,current output 0.8A,brightness of 400LM
Second:middle XML-T6 the llamp,current output 3.0A,the brightness of 1000LM
Three gears:three lamps,with light output curent 3.8A,brightness as high as 1800LM
3,Switch power indicator light explains:
The red light for a second flash.Says 6.1V voltage.said in the following,the battery will have no electricity in time,please charge.
Red light comes on,says voltage in 6.1V~6.8V,between the battery power is low
Yellow light up,says voltage in 6.8V~7.6V,half power.
Green lights up,says voltage in 7.6V~8.25V,power between adequate
Blue light up,says voltage more than 8.25V,full power.
4,Vacuum plating ,mirror reflective,high temperature resistant,prevent fall off,the effect is perfect.
5,Case used 6063#aluminum,CNC machining,anodic oxidation sureface treatment.
6,use 4*18650 battery set,4400mAhvoltage:8.4V,work continuously 3~4hours